International Day of National Parks
August 24th, 2023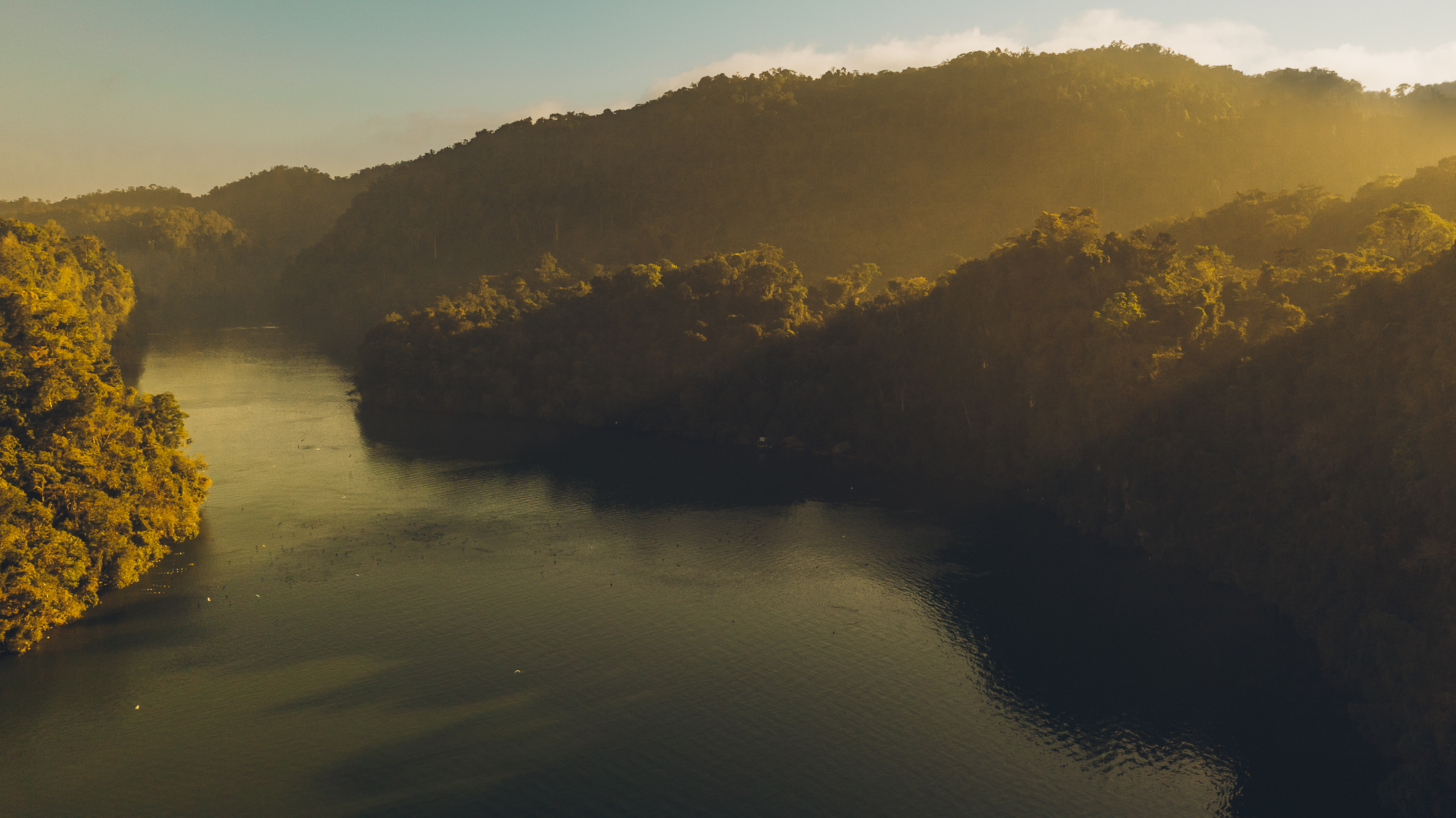 Parque Nacional Río Dulce. Haniel López, 2021. 
Every year we celebrate the International Day of National Parks on August 24th. This day raises awareness for global efforts towards conservation. National parks are decreed for many reasons such as historical, aesthetic, scientific value, cultural value, for recreational purposes, and the opportunity to appreciate nature itself with the biodiversity that surrounds it. 
What are National Parks?
National Parks are natural areas in use for conservation purposes, created and protected by national governments. They can be a natural reserve, semi-natural, or developed land that the government declares or owns. The conservation of wild nature for posterity and as a symbol of national pride are the common ideas across countries to designate their own national parks. 
The management purpose of the National Parks is the protection, conservation and maintenance of natural processes and biodiversity in an unaltered state. In this way, the area is available for scientific studies and research, environmental monitoring, educational and ecological tourism. They must perpetuate a natural state, representative samples of physiographic regions, biotic communities, and genetic resources; added to the selection criteria and management of where it is established that they can be large terrestrial or aquatic areas that contain representative samples of the main regions, treats, or scenarios where plants and animal's species, geomorphic sites, and habitats have a special interest in scientific education and recreative motives. It contains complete ecosystems, materially untaltered by human exploitation and occupation. The resource is managed in a natural or near-natura state and developed so that it can support educational activities in a controlled manner. 
Parque Nacional Yaxhá-Nakum-Naranjo. Haniel López, 2023.
What are the requirements for a National Park?
National parks are protected areas, where IUCN definition of protected area is "A clearly defined geographical space, recognized, dedicated and managed, through legal or other effective means, to achieve the long-term conservation of nature with associated ecosystem services and cultural values". 
The IUCN declared a national park to be a relatively large area that must fulfill the following characteristics:
One or several ecosystems not materially altered by human exploitation and occupation, where plant and animal species, geomorphological sites and habitats are of special scientific, educational, and recreational interest, or which contain a natural landscape of great beauty.

Highest competent authority of the country has taken steps to prevent or eliminate exploitation or occupation as soon as possible in the whole area and to effectively enforce the respect of ecological, geomorphological, or aesthetic features which have led to its establishment.

Visitors are allowed to enter, under special conditions, for inspirational, educative, cultural and recreational purposes.

Minimum size of 1,000 hectares within zones in which protection of nature takes precedence.

Statutory legal protection.

Budget and staff sufficient to provide sufficient effective protection.

Prohibition of exploitation of natural resources (including the development of dams) qualified by such activities as sport, hunting, fishing, and the need for management facilities.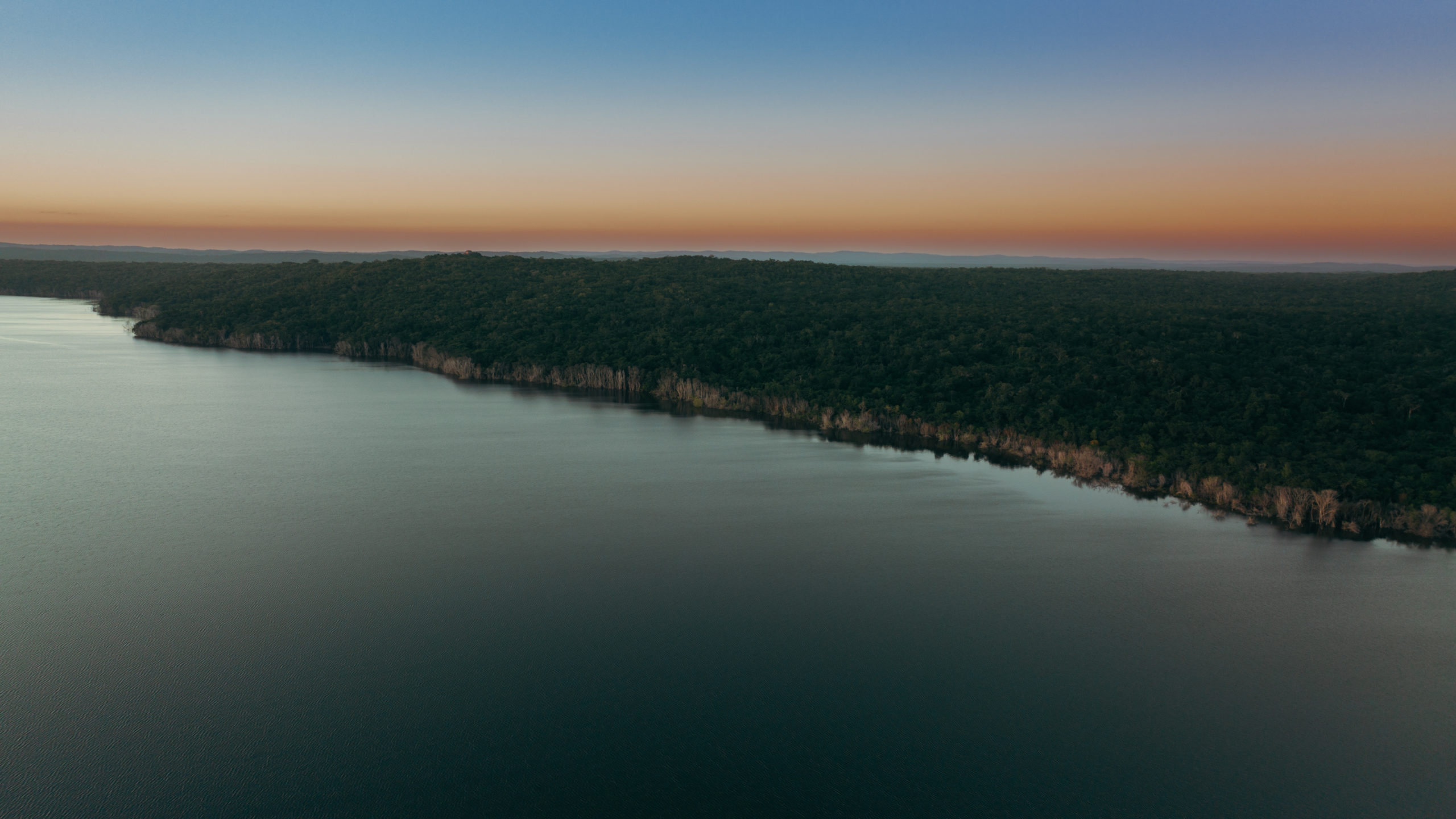 Parque Nacional Yaxhá-Nakum-Naranjo. Haniel López, 2023.
Why are they important?
The main purpose or objective of National Parks is the preservation of the environment for the benefit, education, and enjoyment of others. They play a vital role in maintaining ecological biodiversity, supporting our economy, and cultural preservation. They contain a large amount of natural resources such as hydropower, minerals, land, and hot springs that many industries would be interested in owning. Industrial interference would drive these beautiful places out of reach, not to mention disrupting their native ecosystem and food chains. So national parks serve an important role preserving historic sites and natural features, providing education and limitless opportunity for healthy recreation. 
National Parks help to protect the natural resources, protecting areas that can help mitigate the impact of natural disasters with soil stabilization (for example avoiding landslides and erosion) and reducing floods (for example, in small basins, protection of alluvial plains and wetlands). They can also help in protecting the coast by using mangroves or coral reefs as storm barriers. They help protect biodiversity, wildlife, and their habitat from human impacts. They protect places of natural beauty and are home to several endemic species. Finally, they also protect places which are essential to aboriginal people and have a cultural value.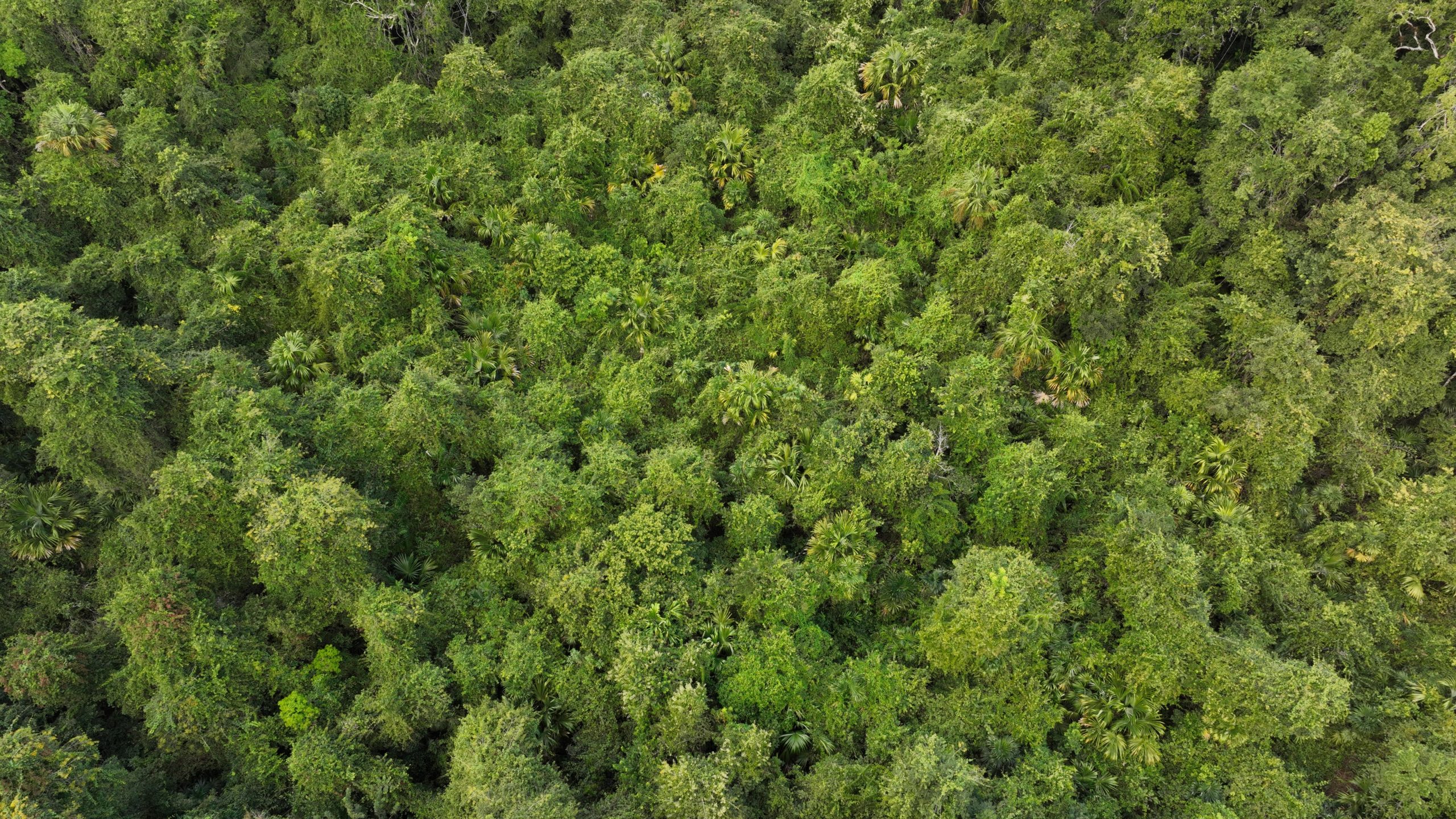 Parque Nacional Tikal. Haniel López, 2023
National Parks in Guatemala
In May 1955 the president declared the first protected areas in the country. The national parks Tikal, Río Dulce, Grutas de Lanquín, and life zones of the volcanic cones were the first areas that began the history of conservation in Guatemala.
Guatemala has 21 National Parks corresponding to 32,222.47 hectares of protected land. 5 of them are core zones or part of the Reserve of the Mayan Biosphere that links natural resources as a natural heritage and the cultural-archaeological heritage. They have an ancestral history connecting the living culture of the descendants and the intrinsic relationship with the local communities making us a diverse country.
Here are the 21 National Parks in Guatemala and the Department of where they are located: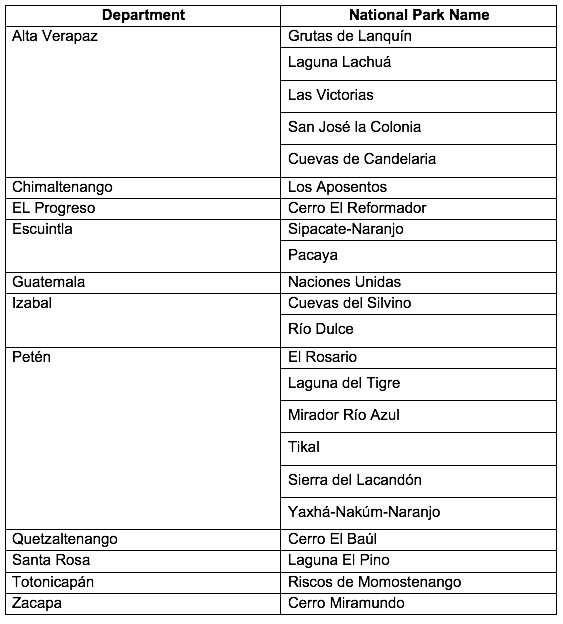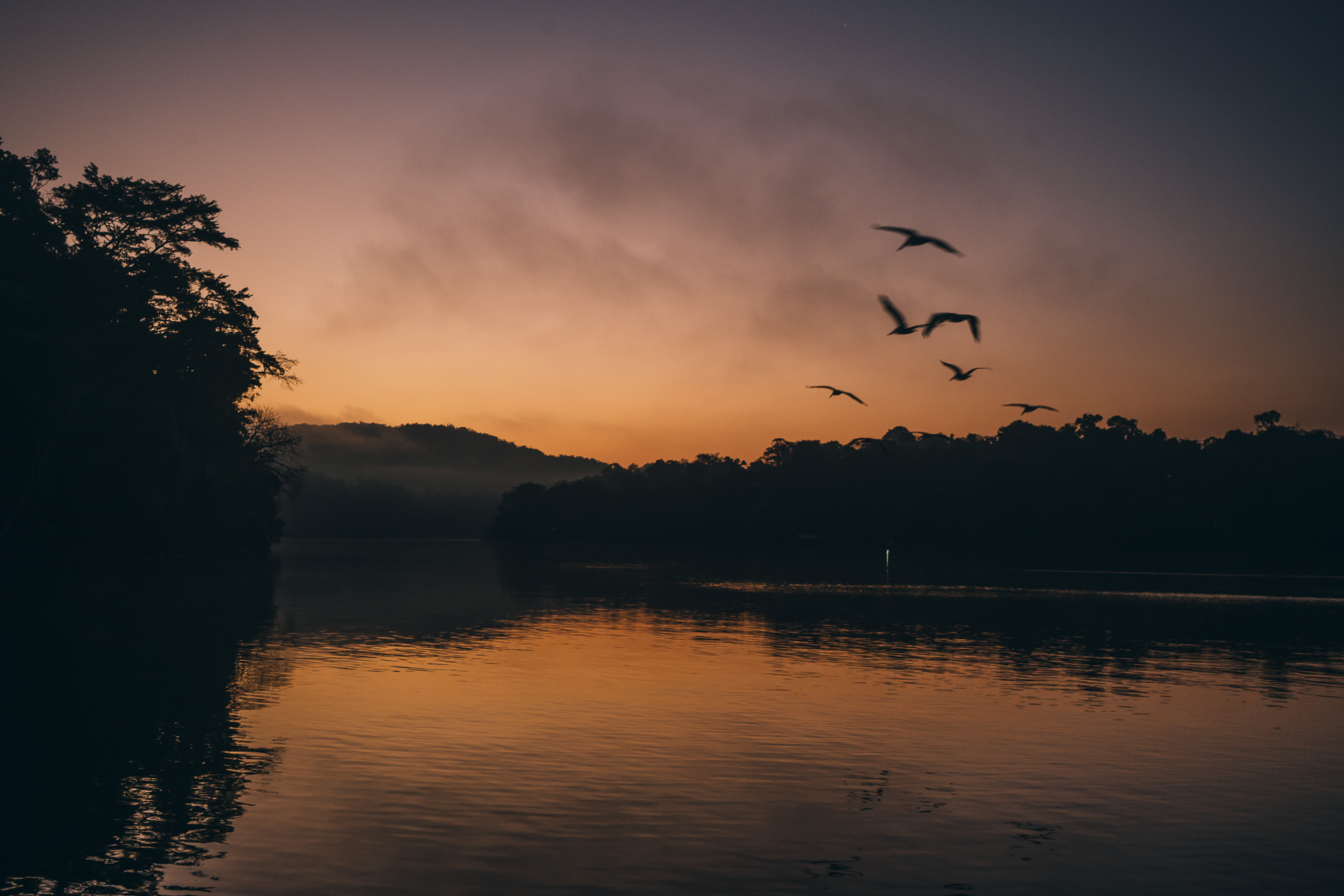 Parque Nacional Río Dulce. Haniel López, 2021.
FLAAR's Work in National Parks
The FLAAR research team, led by Dr. Nicholas Hellmuth, has explored hundreds of miles of National Parks of Mesoamerica. In recent years, the team has been working in the Reserva de la Biosfera Maya, in Parque Nacional Yaxhá-Nakúm-Naranjo, and in Parque Nacional Río Dulce (as part of the Livingston project). As a diverse country, Guatemala has a vast biological and topographical diversity, these national parks are only a small part of what you can of the beauty that the country has to offer. This has made the entire team passionate about studying, photographing, and preserving these protected areas.
We have made some reports of archaeology, and flora and fauna species found in these areas. You can go to our website to explore and read more about our finished and current projects through this link: https://flaar-mesoamerica.org/projects/.
Bibliography
LAUSCHE, Barbara, BURHENNE-GUILMIN, Francoise, International Union for Conservation of Nature (IUCN) and IUCN Environmental Law Centre
2011
Guidelines for protected areas legislation. IUCN in collaboration with the IUCN Environmental Law Centre. Bonn, Gland, Switzerland.
International Union for Conservation of Nature (IUCN)
1994
United Nations list of national parks and protected areas. Prepared by the World Conservation Monitoring Centre and the IUCN Commission on National Parks and Protected Areas.
Written by Flor Morales