Wetlands are understood as "extensions of marshes, swamps, peat bogs or surfaces covered by water, whether natural or artificial, permanent or temporary, stagnant or currents of fresh, brackish or salt water, including extensions of marine water whose depth at low tide it does not exceed 6 meters" – Ramsar.
Every February 2, World Wetlands Day is commemorated, which was declared in 1997 in commemoration of the Convention on Wetlands of International Importance that was celebrated in RAMSAR, Iran on February 2, 1971, adopting the name of The Ramsar Convention. This treaty provides the framework for the conservation and rational use of wetlands where it currently has 168 member countries. Guatemala is one of them, being adhered to the convention on January 26, 1988; through Decree Number 4-88 of the Congress of the Republic. It was assigned to CONAP as its administrative authority and focal point of the Convention for the country.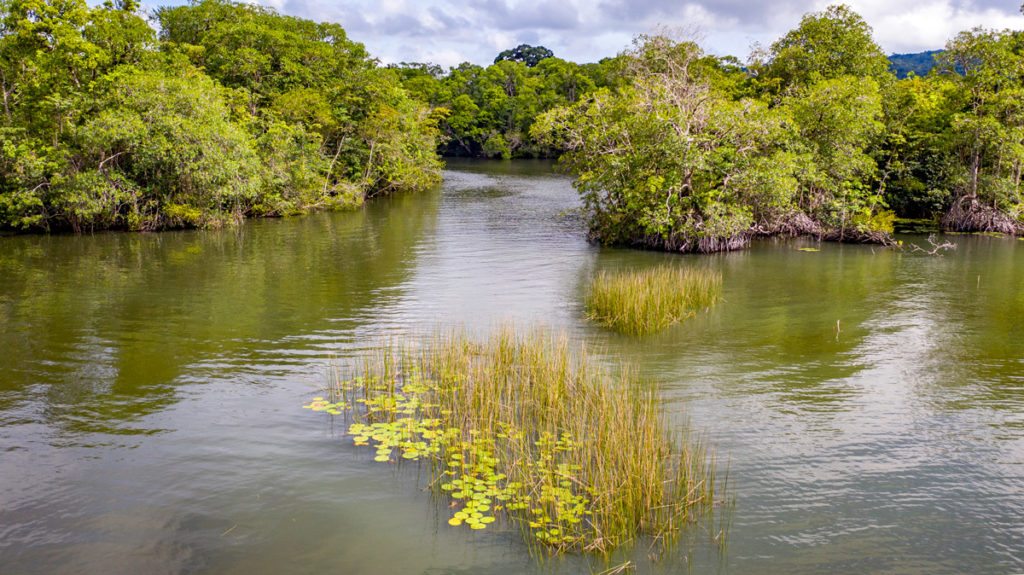 Lagunita El Salvador, Parque Nacional Río Dulce
Drone Photo by Haniel López
Limnology is the science that studies the state and behavior of freshwater bodies as part of ecology. In its study it includes continental waters, such as: lakes, reservoirs, rivers, streams and wetlands as systems. It is considered a multidisciplinary science since all the sciences that intervene in the understanding of natural waters such as physics, chemistry, geology, biology and mathematics are involved. Through integrating facts and concepts from different angles of science, it generates a rich theoretical concept with sufficient entity.
According to the Ramsar Convention, the list of the main types of wetlands is an easy and quick way to identify them, represented in certain sites, and helps to classify the "dominant type of wetland".
Types of wetlands and their description:
Marines: They are coastal wetlands, these include coastal lagoons, rocky shores, sea grasses, and coral reefs.
Estuaries: Located where the rivers flow into the sea. These include deltas, mangroves, tidal marshes with medium salinity.
Lacustrine: These are wetlands associated with lakes and lagoons.
Riverside: These are wetlands associated with rivers and streams.
Marshes: These are swampy wetlands, where more prominent waters such as swamps and bogs are found.
Artificial: Created by anthropic actions, shellfish farming, canals, reservoirs, sewage pools and irrigated agricultural land.
In addition to this classification that we have of the different types of wetlands, it is common to give the ecosystem a name by associating the predominant plant species in it. As an example, we have the "Tulares" name that comes from the tulle or tule plant (Typha spp) "Ciperales" which comes from dense populations of species of the Cyperaceae family among others.
Reserva Natural de Usos Múltiples Monterrico – Photo by Nicholas Hellmuth
The Biological Diversity of a wetland is essential for the functioning of the ecosystem because the organisms are distributed and there are different factors that influence it, such as the interaction of species within their own community and the interaction they have with other species. The productivity of the wetland will also depend on this same interaction that the species have in it and depending on the type of habitat, the appropriate and adapted species will be present to colonize the ecosystem.
Some species such as birds, mammals, reptiles and amphibians can be found in wetlands with specific functions; they can be present to regulate populations of smaller organisms such as populations of fish, molluscs, crustaceans, among others, and in this way give each one a place. organism in the trophic chain.
The plants that are found in wetlands, in the same way, have a place in the trophic chain, in addition to that, they can provide different benefits to the great diversity of organisms that exist in it. One of them is to provide shelter for some species, breeding grounds, food and regulation of nutrients in the water.
Living organisms in an aquatic ecosystem can be divided as follows:
Plankton: Organisms that live suspended in the water are made up of Phytoplankton and Zooplankton.
Nekton: Organisms that move on their own, such as fish.
Neuston: Organisms that live in a very thin layer on the surface using surface tension like some arthropods.
Benthos: Organisms that live in bottom sediments such as benthic macroinvertebrates.
Macrophytes: They are the plants that can be present in a body of water. They can be classified as: emerging rooted, floating rooted, floating unrooted and submerged rooted.
In wetlands it is possible to find different strata where different organisms will be present interacting with their environment. The stratifications can become horizontal, vertical and even associated with the vegetation present in the body of water. Mainly we find three horizontal zones where different organisms can inhabit, which are:
Coastal Zone: Interface between the land and the pelagic zone where there is a great diversity of species such as aquatic plants rooted in the bottom, fish, molluscs, crustaceans among others.
Pelagic Zone: Also called limnetic zone or open zone, where species suspended in the water such as plankton, floating aquatic plants, fish and large shellfish can dominate.
Benthic Zone: Referring to the bottom of wetlands, a place where the diversity of macroinvertebrates such as arthropod larvae, crustaceans and mollusks dominates.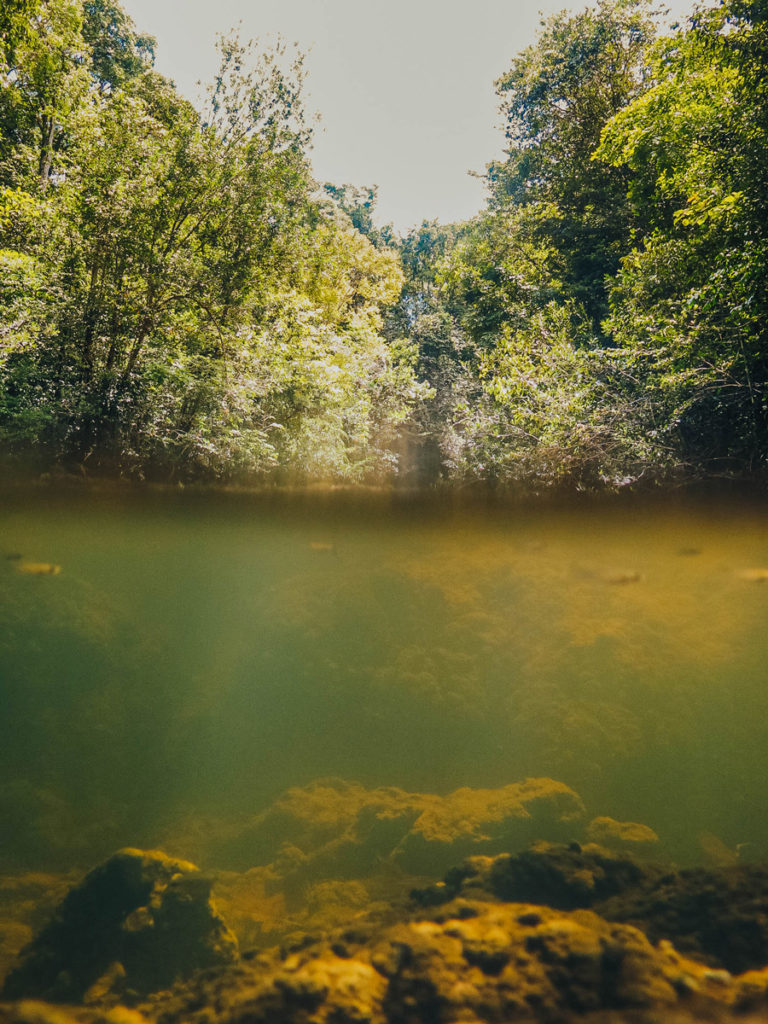 Reserva Natural Tapón Creek
Photo by Victor Mendoza
Wetlands are part of the most productive ecosystems on Earth. Due to their natural processes that they present, various fundamental benefits and services for human health and well-being are derived, such as food production, raw materials and water supply, among others. In global terms, wetlands provide a variety of free services throughout the year valued in the millions.
Benefits of wetlands:
Charge and discharge of aquifers.
Coastal protection against wind and wave erosion.
Habitat for the juvenile stages of fish, molluscs and crustaceans.
Temporary habitat for migratory birds.
Microclimate stabilization.
Water for human consumption and crops.
Fishing resources and aquaculture production.
Flood control.
Conveyance.
Recreation, tourism, and associated cultural values.
Due to the amount of benefits and services they provide, they are also part of the ecosystems subjected to the greatest worldwide release. They are one of the most exploited and contaminated ecosystems due to lack of regulations and environmental legislation. As a result of all this problem, many of the wetland ecosystems have decreased significantly, altering the cycle of their biological, chemical, geological and hydrological processes.
Eutrophication is the relationship between the state of nutrients in a body of water and the growth of organic matter in it. The eutrophication process is the change from a trophic state to a higher level by adding nutrients and organic matter, there are two types that are:
Natural Eutrophication: Caused by the constant input and output of nutrients over a long period of time.
Cultural Eutrophication: Caused by the intense entry of nutrients into the body of water due to human activities.
Other threats affecting wetlands:
Change of land use on the riverbank.
Change in the flow of water due to overexploitation.
Change in the course of the water.
Alteration in sedimentation.
Pollution by solid and liquid waste.
Introduction of invasive alien species.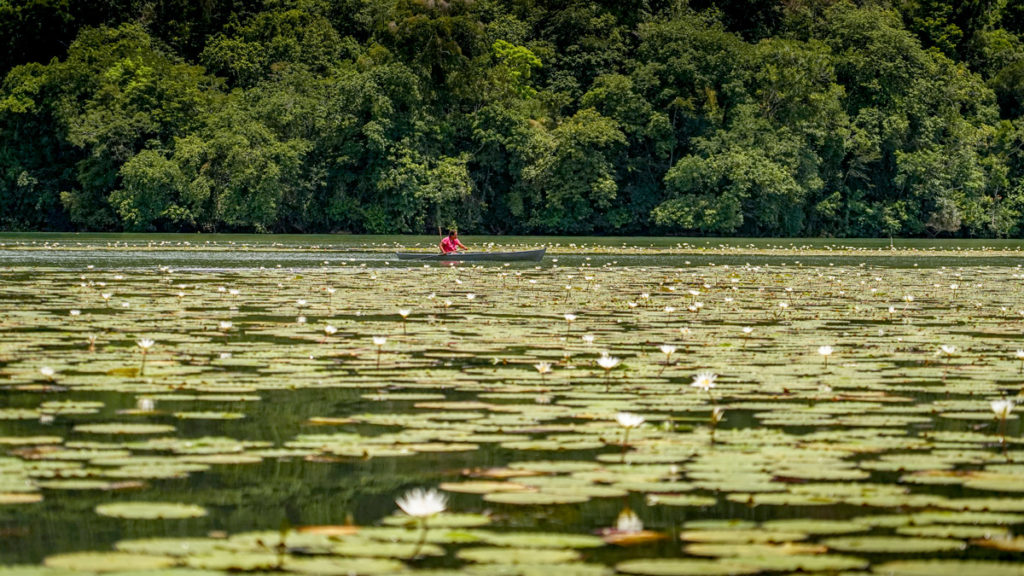 Jardín Acuático, Cañón de Río Dulce Livingston. Photo by Alejandra Gutierrez.
Guatemalan Wetlands
Guatemala is part of the megadiverse countries, hosting a large amount of biological diversity, of which it has seven wetlands of global importance officially declared as Ramsar Sites. These are distributed among Petén, Izabal, Alta Verapaz and San Marcos, with a total of 647,570 hectares.
Parque Nacional Laguna del Tigre, Petén
Parque Nacional Yaxha Nakum y Naranjo, Petén
Refugio de Vida Silvestre Bocas del Polochic, Izabal
Refugio de Vida Silvestre Punta de Manabique, Izabal
Área de Usos Múltiples Río Sarstún, Izabal
Parque Nacional Laguna Lachuá, Alta Verapaz
Manchón Guamuchal in San Marcos and Retalhuleu
In the Pacific of Guatemala there are also other marine-coastal areas of global interest that are: Parque Nacional Sipacate-Naranjo, Reserva Natural de Usos Múltiples Monterrico, Área de Usos Múltiples Hawaii and Área de Conservación Las Lisas-La Barrona.
As well mentioned, Guatemala is a country that has a great richness in species as well as a large number of ecosystems classified into 7 biomes. 14 life zones and 360 microclimates. Despite the fact that most of the protected areas, bodies of water, wetlands and ecosystems are intervened by anthropic activities, there are also entities that ensure their conservation and study in order to disclose what Guatemala possesses and create measures appropriate for the conservation of species and the rational and sustainable use of resources.
FLAAR Mesoamerica's main objective is to document the biological diversity of protected areas and areas protected by indigenous communities, in order to promote the conservation of nature and promote the ancestral use of species in a sustainable manner. Currently, there is a documentation project in the Maya Biosphere Reserve, in which we have managed to demonstrate and document ecosystems with little accessibility to the general public, like savannas and wetlands in very remote areas that may have tourism potential in the future. As well as being possible to document and demonstrate environmental problems such as illegal hunting and forest fires, FLAAR works to bring this documentation to the entities in charge of each protected area, and in this way actions can be taken for its conservation.
Previously, we worked in The Biodiversity Documentation Project in the Municipality of Livingston, where we generated specific material of edible plants from wetlands characterized according to the ecosystem stratum where they were found. The documentation of ecosystems in the tropical forests of Izabal had the support of the Municipality of Livingston, CONAP, FUNDAECO and COCODES of the Q'eqchi and Garífuna communities of the area. Visiting and documenting in the Área de usos Múltiples Río Sarstún, Parque Nacional Río Dulce and Reserva Protectora de Manantiales Cerro San Gil.
Laguna Yaxha – Drone Photo by Haniel López
AGUALIMNO (Asociación Guatemalteca de Limnología y Gestión de Lagos): It is a scientific non-profit entity , established in order to bring together people who work with water resources in Guatemala or are interested in its preservation and proper management. Its objective is to be a reference entity of the state of the continental water bodies of Guatemala and to be the leading entity in promoting, at all levels of action, the study, management, conservation and restoration of the continental waters of Guatemala.
Founded in 2014, it has been present in Lakes Atitlán, Petén Itzá, and in lagoons such as Ipala, Calderas. They have participated in national and international conferences and work in activities such as theoretical and practical workshops on water quality, plankton, microplastics; training and conferences on integrated management of water resources, ecotoxicology, aquatic biodiversity, fish, among others; with the desire to reinforce the presence of limnology and other water sciences in the country. Additionally they provide technical support in situations that are required, such as blooms, cases of contamination or community consultations on the water quality of local bodies of water issuing informative bulletins on the status of bodies of water and wetlands in Guatemala (Gabriela Dávila, AGUALIMNO).
CEMA (Centro de Estudios del Mar y Acuicultura de la Universidad de San Carlos de Guatemala): Since its creation 45 years ago, it has carried out scientific research on the biotic and abiotic components of the marine-coastal wetlands of Guatemala, contributing to the generation of scientific information that can be used to formulate conservation strategies for these important ecosystems.
In Guatemala, marine wetlands such as seagrasses and coral reefs are limited to the Caribbean coast. Guatemala is part of the Mesoamerican Reef System, the second largest barrier reef in the world, shared between Mexico, Belize, Guatemala and Honduras. These ecosystems have a high biological connectivity where a large number of fish and crustacean species of ecological and economic importance spend different stages of their life cycle. Normally, mangrove forests and sea grasses harbor a higher proportion of larval stages, while the adult stages of the species inhabit coral reefs, especially those that are further from the coastline. Not to mention the sociocultural value that these present for the human communities settled in the coastal zone of Guatemala.
The coastal communities of the Pacific and Caribbean coast of Guatemala show a high degree of dependence on fishing activity as one of their main sources of economic income. Fishing resources to a large extent depend directly on the state of conservation of the country's marine-coastal wetlands, so their protection and conservation must be a priority (Jose Ortiz. CEMA).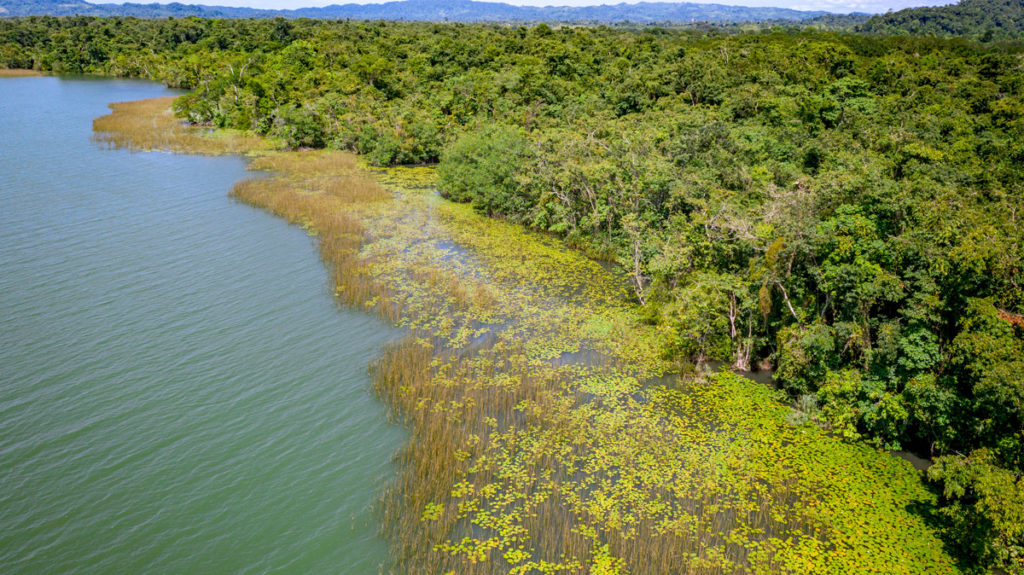 Río Higuerito, El Golfete, Río Dulce
Drone Photo by Haniel López
Cover Photo: Área de Usos Múltiples Río Sarstún – Drone Photo by Haniel López
Written by Victor Mendoza
Collaborators AGUALIMNO & CEMA USAC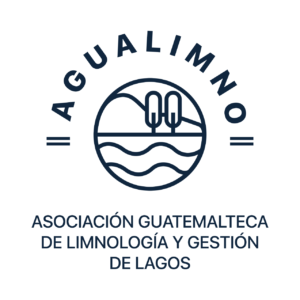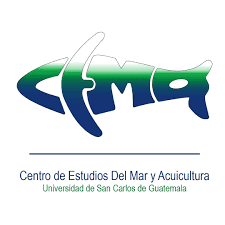 Bibliography
Fonseca, P. PNUD Red Parques
n.d.
"Humedales de Guatemala" Recuperado de Internet en.
Ochoa, S. Moreno F. Jiménez N. Ramos L. Muñiz L. Hass M.
2017
"GUÍA DE PLANTAS ACUÁTICAS DE LA CUENCA DEL USUMACINTA". Editorial ECOSUR. 1ra edición. 322 páginas.
Parks Watch.
2003
Park Profil- Guatemala Chocón Machacas Protected Biotope". Documento PDF. 16 páginas.
RAMSAR. CHERO.
2010
"Tipos de Humedales" Recuperado de Internet en.
Roldán, G. & Ramírez, J.
2010
"Fundamentos de limnología neotropical". Editorial de la Universidad de Antioquia. 2da edición. 440 páginas.