Social distancing due to the pandemic brought many adaptations to our life, we entered into a virtual world and our routine changed. Now, more than ever we wish to return to the great outdoors, sunbathe and rest from the screens. This is reflected in the growing interest of many people to spend more time in their gardens and even cultivate at home or even the creation of virtual tours of tourist centers.
A professor of environmental psychology, at the Autonomous University of Madrid, mentions that confinement involves a poverty of stimuli, which is known as psychic satiety from that branch of psychology. This translates as a feeling of redundancy, a tiredness from surrounding yourself with the same things. This situation affected the way we receive stimuli because virtuality cannot complement our sensory needs. Without a doubt, spending more time in our homes awakened in us a lot of nostalgia for nature and at the same time allowed us to become more aware of its care and the need to surround ourselves with more green spaces within the city. But, we also gave nature itself the opportunity to regenerate without us. Now we know that these areas are vital both for our development and well-being, as well as for the conservation of biodiversity. It is time to rebuild our relationship with nature and strengthen the value we give to urban greenery.
Surely there are many green areas within the city that you still do not know, but you will want to visit as soon as possible. Next, we show you the natural parks that you can visit in Guatemala City:
Zona 2:
Parque Jocotenango: It is also known as the Plaza de Jocotenango, it has green areas and playground for children.
Hipódromo Del Norte: Its main attraction is its giant slide, in addition to its mechanical games. It is a natural lung for the city.
Parque Ecológico Ciudad Nueva: It has a very nice viewpoint and playground for children surrounded by a forest.
Zona 5:
Parque Ecológico La Asunción: This place used to be a ravine, but now you can enjoy hiking and sports courts. You can enter from the north side of the "La Asunción" Bridge.
Zona 7:
Parque Erick Barrondo: The park has sports facilities and trails where you can go hiking. Ideal for a bike tour!
Parque Arqueológico Kaminal Juyu:
An archaeological site in the middle of the city where you can make a picnic and learn more about the Mayan culture.
Zona 10:
Parque La Joya de Oakland: Admission is free and is pet-friendly. It has 12,380 square meters of green area.
Zona 11:
Parque EcoAventura: It has green and recreational areas to spend a special moment surrounded by nature in the middle of the city.
Zona 15:
Parque Ecológico Jungla Urbana: Its length is 6 blocks and it used to be a ravine and now it has hiking trails. Admission is free.
Reserva Ecológica La Ardilla: It is another of the restored ravines in the city.
Zona 16:
Parque Los Montañistas: If you like mountain biking you should visit this park, it also has a playground and a recreation area for the whole family.
Parque Ecológico y Deportivo Cayalá: This park has a metropolitan museum of birds, games and trails to enjoy with the whole family.
Parque Ecológico Jacarandas de Cayalá:
A fairly large forest with a small waterfall and trails. It has camping area and is pet-friendly.
Parque Ecológico Kanajuyú: It is a restored ravine where you can go hiking, as well as bird watching, which is its main attraction.
Zona 17:
Parque Ecoaventuras Siwan Raxche: An excellent place for bird watching, hiking with friends and family, and breathing fresh air.
Do you already know which one you want to visit first? Here you can find the location of each park: https://goo.gl/maps/xQhDfxgpBuzVNkgv9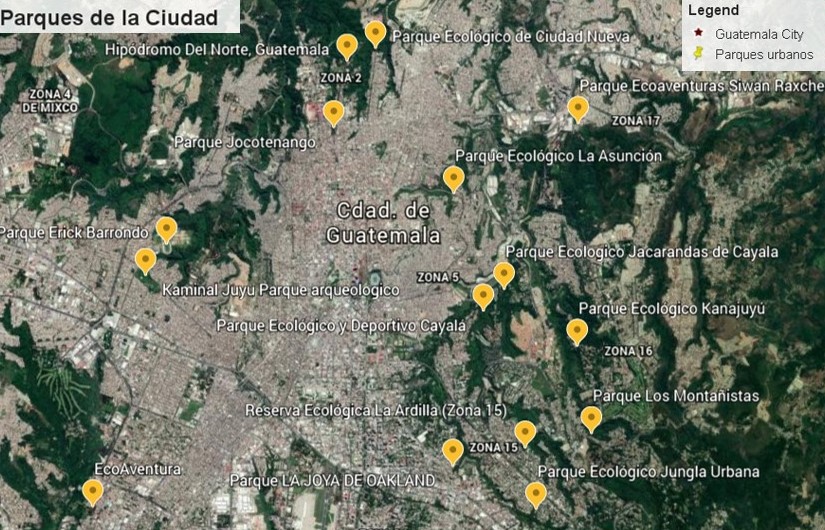 Blog prepared by Vivian Hurtado