During our exploration in boat on Yaxha Lagoon, Yaxha-Nakum-Naranjo National Park, in the distance we noticed a light pink flower on the shore. While we were advancing we could see more and more of these flowers tangled in the water grass. Maybe a signal to get closer.
When we stopped the boat a few moments we realized that they were orchids. WOW! An orchid growing in the water!?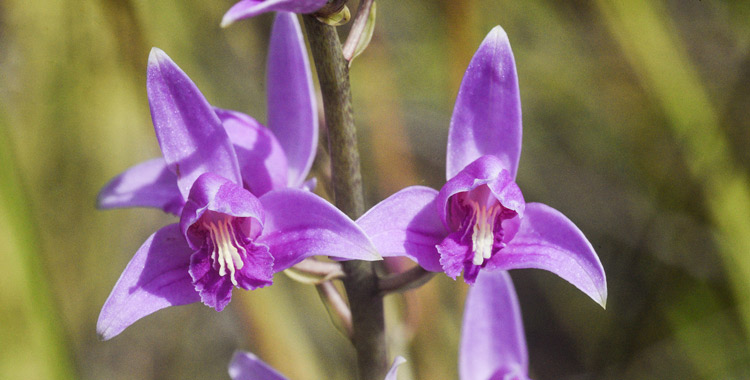 It is a terrestrial orchid called candelaria orchid or Bletia purpura, its scientific name. It is native from the southern United States, through Central America, to northern Brazil.
We are surprised how an orchid (if they are better known being terrestrial) is living and growing so comfortably in the water, in addition all its parts are in good condition and are adapted.
This orchid has an underground stem and has up to 3 leaves, which can reach 90 centimeters long. Its flowers are lilac to purple red (or purple as its scientific name suggest) and are in cluster of 3 to 40 flowers.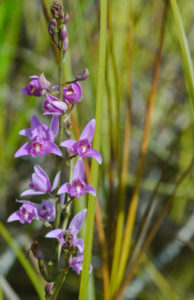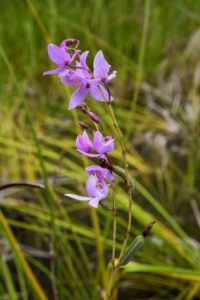 Most of these plants that we found were near the edge of the lagoon and it seems that the communities of this orchid always choose the reeds and grasses in the water to be able to grow.
Many similar orchids are called swamp orchids. Although Yaxha-Nakum-Naranjo National Park is not a swamp, don't forget that the Park is considered a Wetland Ecosystem declared by RAMSAR. (www.archive.ramsar.org)
It should be noted that the shores where the plants and the soil begin to accumulate can be seen as a swamp and be the shelter for more especies.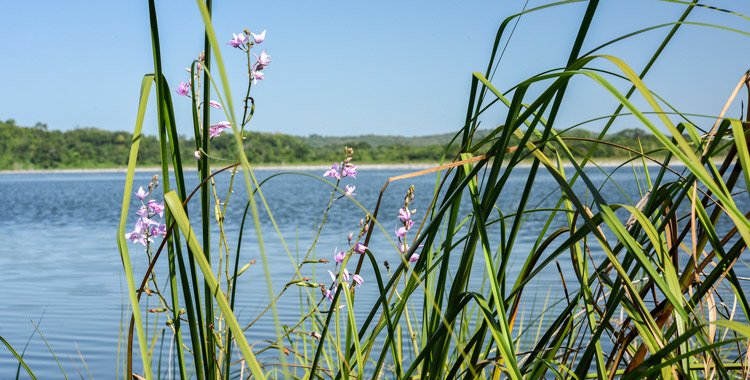 After investigating a little more about this plant and its way of life, we find that it is classified as underwater and terrestrial. Underwater refers to its roots, since they do remain submerged in the water.
Thanks to the series of high resolution photographs of this beautiful plant of unusual habits, it was possible to make our new Photo essay which you can download here "Aquatic Orchids?" And learn more about it.
Remember that in order to observe this orchid and many other species you can take a boat tour in tha Yaxha lagoon at Yaxha-Nakum-Naranjo National Park (www.visityaxha.com) in Petén, Guatemala, where you will also enjoy nature and archeological sites.
If you want to learn about other plant species browse our sitewww.maya-ethnobotany.org and find out about our news.